Crocheting is my absolutely most favorite thing to do with yarn or thread. I also work counted cross stitch, embroidery, and have started to knit, which I'm growing to love! I want to use these pages to share some of my work, and hopefully help spread the word about what fun these handcrafts can be!
Sunday, April 6, 2008
Posted by

Judy
at 7:28 PM
5 comments:
Links to this post

I had to wait to post these because they were part of a secret swap on Crochetville.
There are 2 doilies I made, a dishcloth, a 12 inch square, cell phone holder, scarf...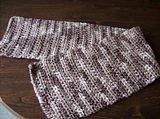 Posted by

Judy
at 7:20 PM
No comments:
Links to this post