Crocheting is my absolutely most favorite thing to do with yarn or thread. I also work counted cross stitch, embroidery, and have started to knit, which I'm growing to love! I want to use these pages to share some of my work, and hopefully help spread the word about what fun these handcrafts can be!
Thursday, March 5, 2009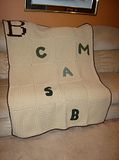 My neighbor came up with this random design and I was then able to slip stitch the initials of all the family members onto their ghan, including those of their son, Chris, who passed away in December.
Posted by

Judy
at 8:34 AM
No comments:
Links to this post

The 62 inch RR is going to Fisher House at Madigan General Hospital, Ft. Lewis, Washington State. The square is an 8 inch revised version of Smooth Fox's pattern which I tested for her.
I decided to add the pic I took of the ghan with Stewie trying it out...the ghan is so big you have to click on it to see the little guy...LOL!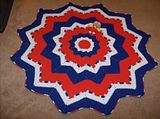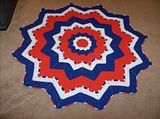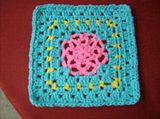 Posted by

Judy
at 8:32 AM
No comments:
Links to this post