Crocheting is my absolutely most favorite thing to do with yarn or thread. I also work counted cross stitch, embroidery, and have started to knit, which I'm growing to love! I want to use these pages to share some of my work, and hopefully help spread the word about what fun these handcrafts can be!
Tuesday, November 18, 2008
Wednesday, November 12, 2008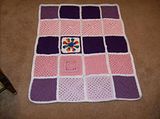 I added some squares to add to those that were donated to me to make this blanket for a child staying at Fisher House. It's a house near a miltary base where families can stay while wounded loved ones are in the nearby hospital. There are several across the country. I have lots more squares to border and assemble before getting a box on it's way.
Posted by

Judy
at 7:47 PM
2 comments:
Links to this post