This is a 44 inch graph ghan for a neighbor's son. He grew up alongside our son and I wanted to do something special for he and his bride.
The darker color is a deep green.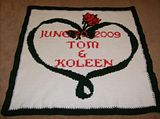 I purchased this design at www.citiusa.com and for a nominal fee the designer personalized the pattern.